Porco Preto com Molho de Alho, or Portuguese Dark Pork Loin in Garlic Sauce, is a deliciously unique take on a traditional Portuguese dish. Porco preto is a very culturally traditional part of Portuguese cooking, and using the darker meat of the Pork is even more rich and flavorful. This meat is much more flavorful in my opinion and is perfect in combination for cooking with these ingredients. This is a dish which is sure to impress and quite simple and easy to make.

Ingredients:
1 1/2 Pound Dark Pork Tenderloin
1 To 2 Tablespoons Cracked Black Peppercorns
Salt to taste
3/4 Cup Dry Marsala Wine
7 Garlic Cloves chopped
1/2 Cups Whole Milk
1 Tablespoon Olive Oil
1 Tablespoon Butter
Directions:
1) Press the cracked pepper onto all sides of the tenderloin. Wrap in plastic wrap, and refrigerate.
2) To make the garlic sauce, put the whole garlic cloves into a small saucepan with 1 cup of milk.
3) Bring to a boil, and reduce the heat to a simmer.
4) Cook for an additional 30 minutes or so, or until the garlic is very soft.
5) If your milk evaporates too much as the garlic cooks, add a little additional milk as needed.
6) Season with salt, and remove from the heat.
7) Using a whisk or blender, blend the garlic and milk together.
8) Return to the heat, and continue simmering until it is thickened.
9) Cut the pork into 6 pieces or medallions.
10) Add the olive oil to a frying pan, and cook the pork over high heat, until it is cooked with just a hint of pink remaining inside.
11) Add the salt to taste and set aside in a warmed platter.
12) Add the Marsala wine to the pan drippings and cook until it has reduced by more than half and has become thickened.
13) Add the garlic sauce to the frying pan and mix well creating a blended thick sauce.
14) Add the tablespoon of butter to this mixture, and blend well.
15) Serve the medalions on a platter, with a generous spoonful of the garlic sauce on top and enjoy!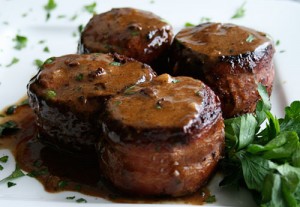 Recipe inspired by TasteFood.Info so go ahead and check them out as well!