Just in the time for summer we have a great outside barbecue recipe that uses hot and spicy Portuguese peppers to marinate the classic beer can chicken. This is a delicious Portuguese style Barbecue Beer Can Chicken dish. This is a summer favorite of ours and goes with a summer salad and ice cold brew.

Ingredients:
2-4 lbs. whole chicken
5-7 small fresh chillies, roughly chopped
2 hot red peppers, roughly chopped
3 garlic cloves, roughly chopped
1/4 cup olive oil
2 tbs fresh lemon juice
1 tbs sea salt
1 can of beer
Directions:
1) To make the chilli sauce, place the chillies and garlic in the bowl of a small food processor and process until chillies and peppers are finely chopped. Add the oil, lemon juice and salt and process until all combine. Transfer to a bowl or food container.
2)Prepare your grill for indirect heat. If you are using charcoal, put the coals on one side of the grill, leaving another side free of coals. If you are using a gas grill, fire up only half of the burners.
3)Rub the chicken all over with the olive oil and pepper sauce you mixed in the processor leaving some left over for basting later.
4)Now open the beer and pour some out so the can is only half full. Insert the beer can into the open chicken cavity and prepare the grill by setting it to high to medium heat leaving one side off or free of coals to cook with indirect heat.
5)Place the chicken on the cool side of the grill using the bottom of the can and the chickens feet to form a tripod so the chicken can cook upright.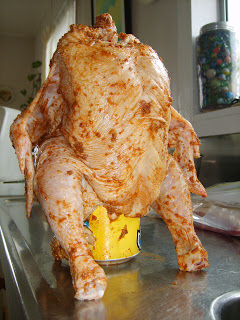 6)Now cover the grill and do not open it for at least an hour. After an hour start basting the chicken with the left over olive and pepper sauce every 10 minutes, do this for about a 30 to 40 minutes. Now use a meat thermometer to check the internal temperature of the chicken, you want it to reach 165 degrees in the center. Another way to tell if the chicken is done is just to poke the thigh with a knife and if the liquid runs clears and not pink the chicken is done.
7)Once the chicken is cooked remove it carefully from the grill because the beer can is very hot. Lay the chicken flat on a serving tray and remove the beer can. The chicken is now ready to serve.