Chouriço à Bombeiro, or Flame Grilled Chouriço, is a very traditional way of flame grilling delicious Portuguese Chouriço sausage. The chouriço is simply placed on top of a small clay cooking vessel called an Assador de Barro, then quickly cooked by the aguardente fueled flames below. The flame grill gives the chouriço a perfect blackened crispy texture. Making this dish is a simple and fun cooking experience perfect for enjoying as a side dish in the summer months.
*Serves 2*
Ingredients:
1 chouriço sausage link
1 clay "Assador de Barro" cooking vessel (If you can't find this locally then you can always buy on here
on Amazon)
1 cup 90% or more clear alcohol (such as grain alcohol)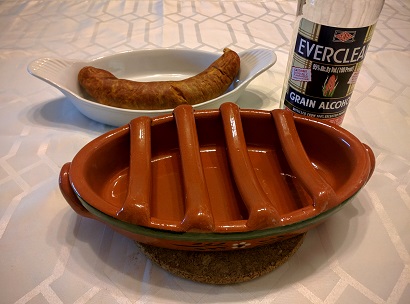 Directions:
1) Rinse the chouriço sausage in a bit of water and then pat dry with paper towels. Let it sit until dry.
2) Make small slices in the chouriço with a knife to cook more thoroughly.
3) Place a cup of the high percentage alcohol in the bottom of the cooking vessel.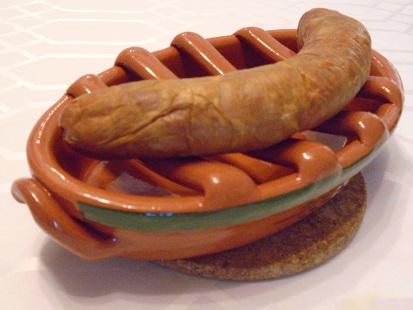 4) Place the chouriço on top of the cooking vessel and light the alcohol on the bottom of the dish.
5) Let the flames cook the chouriço until it is slightly blackened and crispy.
6) Remove from the cooking vessel once done and slice into pieces. Serve while hot.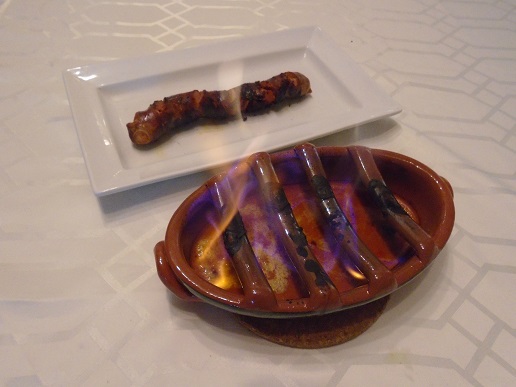 Photo Courtesy of Dosopar