Vieiras, or Portuguese scallops, are a very traditional and popular eat in Portuguese cuisine. Being a seafaring nation historically, we Portuguese have mastered the many delicious ways and variations to cook the fish and seafood that are freshly caught. This recipe is a simple & easy way to enjoy delicious fresh scallops without all the fuss. The bursting flavor coming from the sauteed garlic and Himalayan salt makes this an unbelievably delicious dish that you will love. Go ahead and try it out, and tell us what you think!

Ingredients:
1 1/2 pounds sea scallops
1 teaspoon Himalayan salt (You may not be able to find this in your local food store but you easily buy some here on Amazon.com)
1/4 teaspoon black pepper
1 tablespoon olive oil split
1/3 cup port wine
2 tablespoons fresh lemon juice
1/4 cup chopped fresh parsley, divided
5 garlic cloves, minced
2 cups cooked rice
Directions:
1) Season scallops with Himalayan salt and pepper.
2) Heat 1 1/2 teaspoons oil in a 10-inch cast-iron or heavy skillet over high heat until very hot (about 3 minutes).
3) Add half of scallops; cook 2 minutes on each side or until browned.
4) Remove scallops from pan; keep warm. Repeat procedure with 1 1/2 teaspoons oil and remaining scallops. 5) Remove scallops from pan.
6) Stir in port and lemon juice, scraping pan to loosen browned bits.
7) Add scallops, 3 tablespoons parsley, and garlic; saute 30 seconds over high heat.
8) Serve scallops over rice.
9) Sprinkle with 1 tablespoon parsley.
10) Serve and enjoy!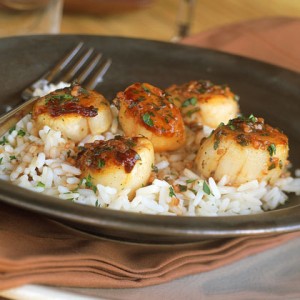 This recipe is inspired by our friends over at myrecipes.com so check them out as well for some delicious recipes!