Our recipe of the day is a delicious dish for Macau African Chicken, known as Galinha à Africana from Macau. It is a true combination and fusion of culture and cuisine stemming from the different ingredients and style of cooking. The pimenta comes from the Portuguese side, the peanut from the African, the spice from the Chinese, and the coconut from India.

This is a unique and delicious slight variation on the dish that we are sure you will love. It is one of the more difficult recipes we will have on this site but I can assure you it is totally worth the effort. Try it out and tell us what you think! If you have any questions or comments about this dish please place them in the comment box below.
.
Ingredients:
3 to 3½ lb of chicken pieces
Marinade:
1 tsp chili powder
1 tsp garlic, minced
2 Tbsp shallot, minced
½ tsp paprika
½ tsp pimenton (if you don't have it, just substitute with more paprika)
2 tsp five-spice powder
3 tsp of salt
a few turns of freshly ground black pepper
Sauce:
vegetable oil
1 cup shallot, minced
½ cup garlic, minced
½ cup sweet paprika
½ cup grated coconut
2 Tbsp peanut butter
1 cup chicken stock
½ cup coconut milk
2 bay leaves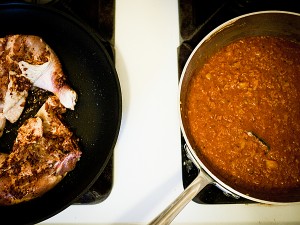 Directions:
1) Night before, marinate the chicken: Mix all the ingredients for the marinade together and rub into chicken. Place the chicken in a bowl or dish and cover with plastic wrap. Let the chicken marinate in the fridge overnight.
2) Make the sauce: Heat ¼ cup of vegetable oil in a saucepan over medium to medium-low heat. Add shallots and garlic and cook until softened, about 5 min, stirring often so garlic doesn't burn. Add paprika and coconut and cook for another few minutes. Add in chicken broth, coconut milk, bay leaves, and peanut butter. Simmer for 10 min over low heat. Hunt down and discard the bay leaves. (Note: This step can be done ahead of time. Just add in 5-10 min to the bake time if using sauce that's cold from the fridge.)
3) Finish the dish: Preheat oven to 400F. In a large skillet, heat about 2 Tbsp of vegetable oil over medium-high heat. Brown the chicken on all sides. Once browned, transfer the chicken pieces to a baking dish and cover with the sauce. Alternatively, if you were using an ovenproof saucepan, nestle the chicken pieces in the sauce. Bake for about 30 min, until the sauce is bubbly.
4) Serve with rice or boiled potatoes.
This recipe comes from our friends over at RiceandWheat.com, so check them out as well for some great recipes!