Chouriço stuffing is a traditional Portuguese-American food that is typically enjoyed on the day of Thanksgiving. The stuffing itself is a very standard and traditional style of Thanksgiving stuffing but with the nice added addition of the chouriço's rich and smokey flavor. It is a simple and easy to make dish that will surely be enjoyed by all for the holidays.

Ingredients:
1 onion, chopped
3 garlic cloves, chopped
1 chouriço link, casing removed
3 tablespoons butter
4 tablespoons olive oil
salt and pepper to taste
1 teaspoon paprika
2 loafs country bread (3 days old), broken apart into pieces
4 eggs, beaten
1 cup seasoned bread crumbs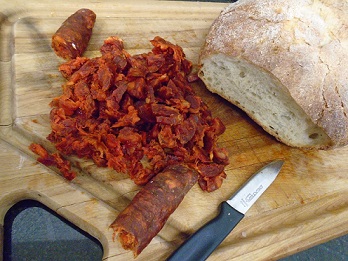 Directions:
1) Saute onions, garlic, and chouriço in a large saucepan on high heat with 3 tablespoons butter and the olive oil. Once done, set aside.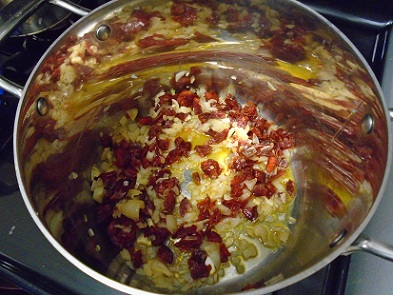 2) Pour hot water over the pieces of bread in a bowl. Let it sit for 3-4 minutes.
3) Once it cools down, squeeze out the water from the bread with your hands.
4) Add the four beaten eggs and the breadcrumbs to the bread mixture. Then add this mixture to the sauce pan with the chouriço. Add the paprika and the salt and pepper to taste.
5) Let it cook on low heat for approximately 45 minutes, occasionally stirring.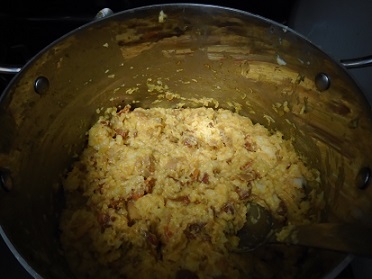 6) Once done, place the stuffing in a casserole dish and place in a preheated oven for about 15-20 minutes at 400 degrees fahrenheit until the top has well browned.
7) Once done, remove from the oven and let it cool for 45 minutes to an hour before serving.