Chouriço Bread, or Pão com Chouriço in Portuguese, is a delicious sandwich style bread made with wonderful Portuguese Chouriço. Portuguese Chouriço is an awesome tasting pork sausage that is rich in flavor with an added spicy kick. This bread is a delicious and popular way to enjoy delicious Chouriço in an awesome meat bread. It is quite simple to make, you just have to go out and find some Portuguese Chouriço. Try it out and tell us what you think!

*Makes 8*
Ingredients:
2.5 cups flour
5 teaspoons dry yeast
1 tablespoon olive oil
2 chouriço sausage links cut into slices and casing removed
8 tablespoons warm water
1 teaspoon salt
1 tablespoon flour to dust
Directions:
1) Dissolve the yeast in 4 tablespoons of warm water. Add about 1/2 tablespoon of flour and mix well. Set aside.
2) In a big bowl, mix the flour, olive oil, salt, and the yeast mixture. Add some more warm water a bit at a time until you have a smooth dough that doesn't stick to your hands. Let rise for 30 minutes.
3) Divide into 8 portions. Using a rolling pin roll out the dough pieces into rectangles.
4) Layer the sliced chouriço on the dough, roll the dough up, and pinch the seams to close.
5) With a knife make 4 horizontal cuts to the top of the dough pieces.
6) Set the pieces aside on a greased baking sheet and let them rise for about another 30 minutes.
7) Dust the tops of the dough pieces with the tablespoon of flour.
8) Bake in a preheated oven at 375 degrees fahrenheit for about 25-30 minutes until the bread is done.
9) Take out of the oven and let them cool for 5 to 10 minutes. Serve while hot.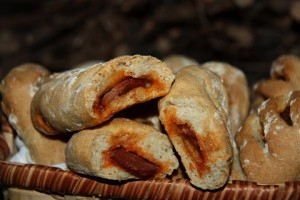 This recipe was inspired by our friend Helena Gonçalves over at Tentações Sobre A Mesa so check her site out as well for some delicious recipes!